When considering home decor, a good place to start is deciding on an interior design style to help shape the room you are decorating.
Identifying a style you like can help you craft a cohesive room where furniture, accents, art and other design elements work in harmony to create the desired atmosphere (bright, formal, or calming) and purpose (relaxation, entertaining, dining, etc.) Or if you find you prefer variety, determining which styles you're most attracted to can help you pull together and blend elements from disparate periods, textures, shapes, and finishes to create a more eclectic space.
Identifying design styles can be a bit of a challenge sometimes, however, due to the fact that characterizations and identifiers for a style may be described differently depending on the source: What differentiates a "Modern" piece from a "Mid-century Modern" one? What elements make a piece "Victorian"? Did "Art Nouveau" start in the 19th century or 20th?
To help you find the styles you're looking for, we've put together a primer that outlines how we at GoodWood describe and label our furniture, artwork, and accessories, along with some flourishes of history on how each style developed.
FEDERAL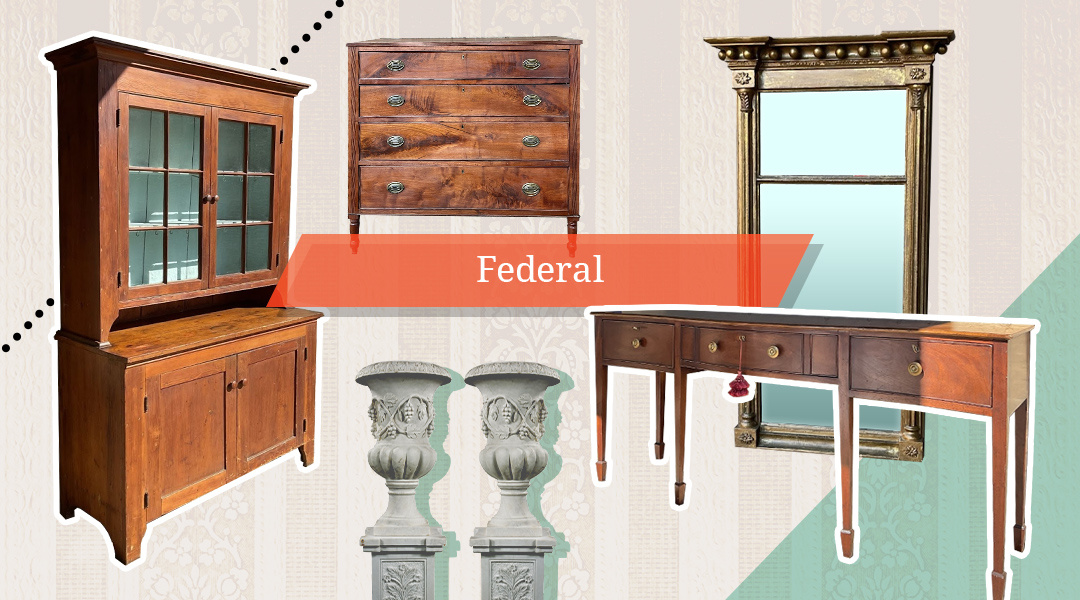 —c.1789-1823
—Straight lines
—Light construction
—Tapered legs
The Federal style was America's first distinctive style as an emerging nation, pulling from neoclassical / European influences, especially Roman and Greek architectural details, paired with patriotic symbols to create a uniquely American profile.
The style features straight lines, simple, geometric patterns (often ovals, circles, and diamonds), desks and consoles with tapered legs (sometimes reeded), sabered legs and pedestals, classical busts, and patriotic imagery such as fighting eagles or shields.
EMPIRE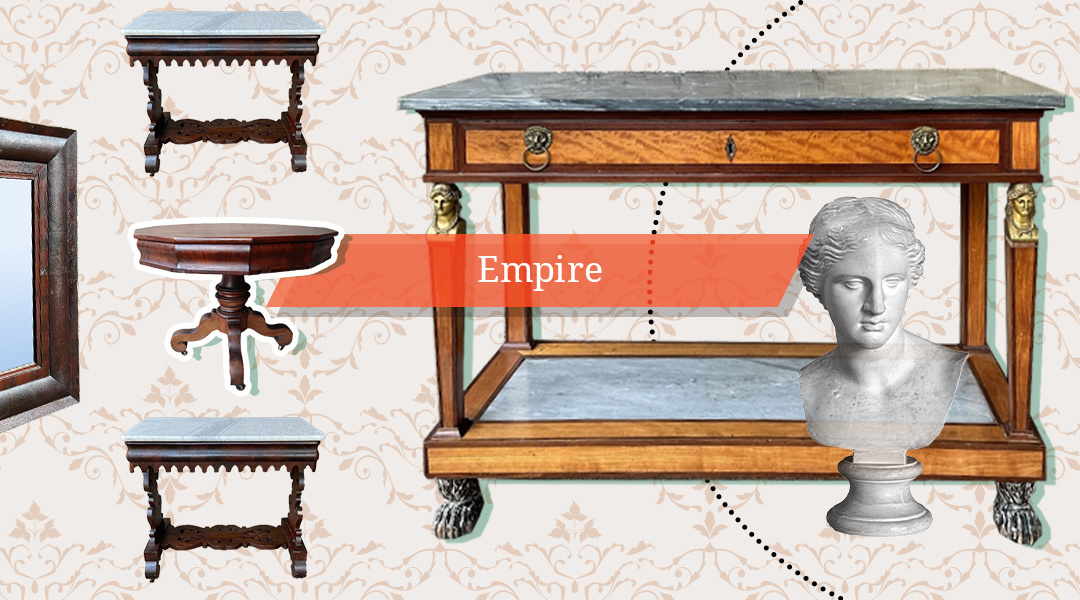 —c.1809-1815
—Highly ornamental
—Balance & symmetry
The Empire style draws its name and inspiration from early 19th century France and Napoleon Bonaparte's empire. Napoleon had strict guidelines for style and decor that spread across the empire, and its elegance and magnificence still inspire furniture and decor to this day.
Furniture from this period was massive (meant to impress), made from mahogany as a rule whenever possible, and adorned with bronze and marble decorations. Gilded ornamentation followed strict symmetry, and often included Egyptian and animal motifs, and fabrics and walls featured bold, saturated colors such as emerald, burgundy, and deep blue.
VICTORIAN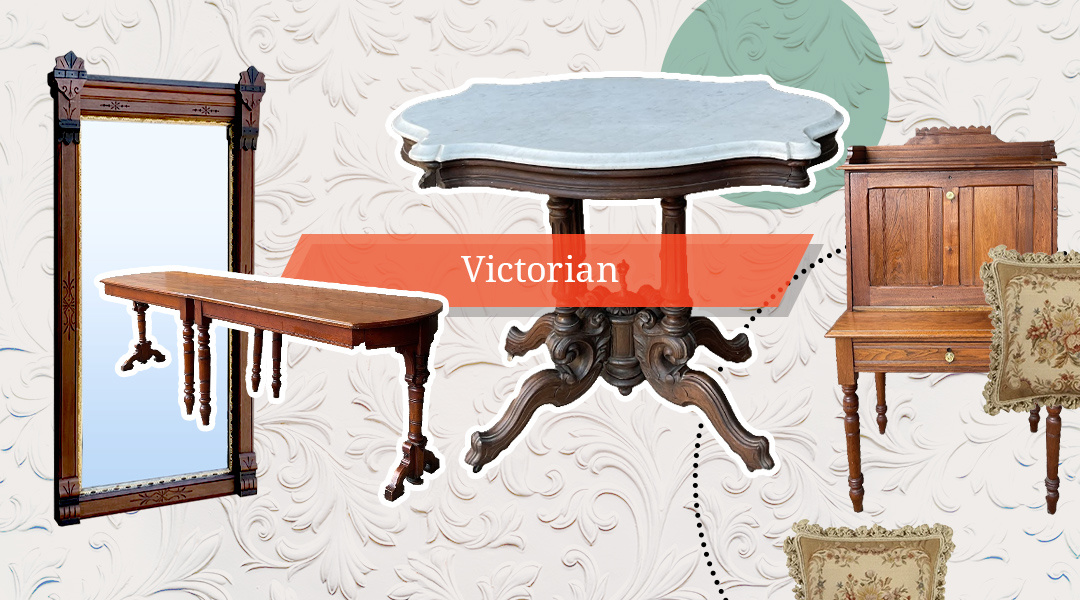 —c.1820-1860
—First mass-produced furniture
—Dark woods
—Ornate features
—Large in stature
—Intricate carvings
—Heavy fabrics/upholstery
Victorian design encompasses most of what most people typically think of as "antiques." Based on 19th-century European design, this style strives for harmony, order, and symmetry. While some consider this style "old fashioned," the true power of this style lies within its ability to invoke feelings of familiarity and comfort.
ARTS & CRAFTS / MISSION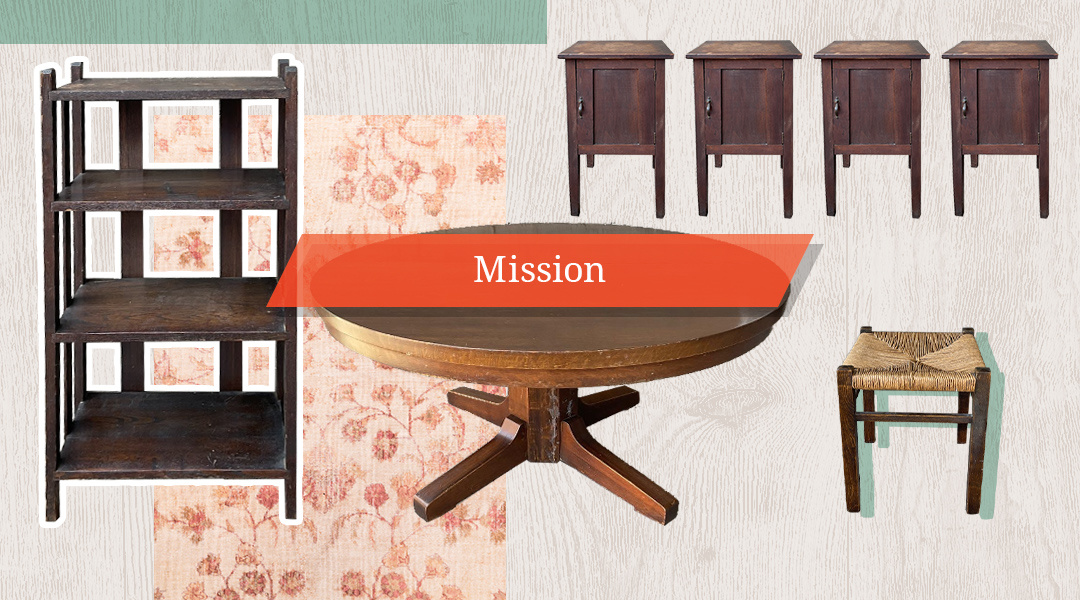 —c.1880-1910
—Utilitarian design
—Simple construction
—Hardwoods like oak feature prominently
The Craftsman era of interior design was a direct response to extravagant Victorian styles, serving as an almost act of resistance against the developing commercialized manufacturing and factory systems of the Industrial Revolution. Fans of the movement wanted to bring interior design "back to basics," and started the Arts and Crafts movement which gave rise to the Mission style of decor, where craftsmanship and practicality is king.
Shaker-style panels, simple hardware, solid wood construction, vertical slats, clean lines and the maximization of storage are all key elements of this style.
ART NOUVEAU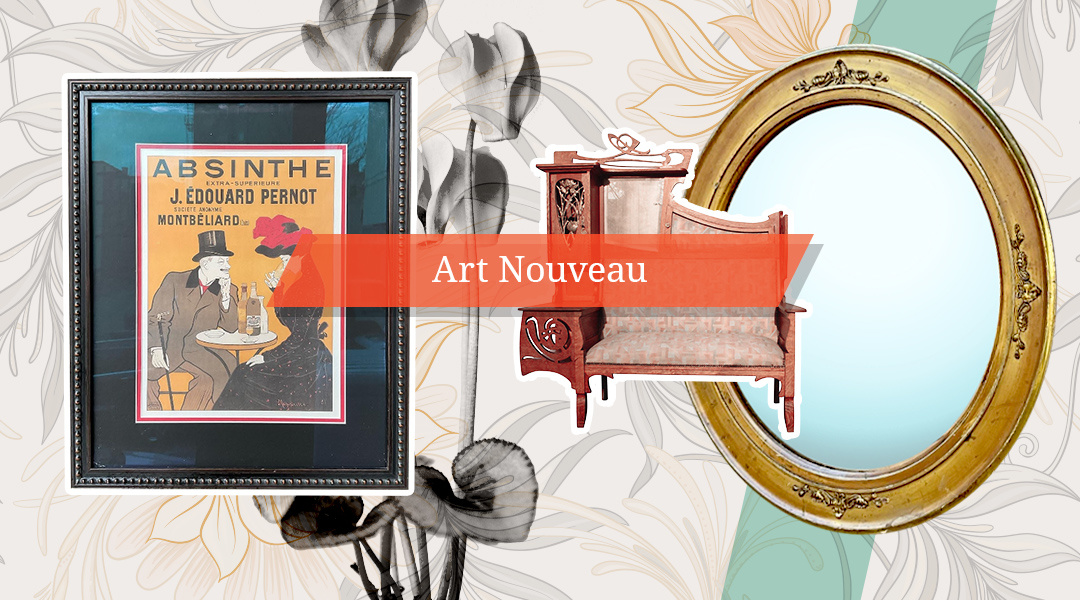 —c.1890-1910
—Intricate details
—Curved lines
The Art Nouveau style takes much of its inspiration from the fluid forms of nature, highlighting organic shapes and lines to elegant effect. Furniture, fabrics, and even glass feature floral patterns, wildlife, sinuous curves, and other linear designs, and colors are largely muted but present (think mustard, sage, lilac, brown, and peacock blue). The use of flowers, dragonflies, peacock feathers, and swirls/whirls of organic linework (whiplash) are motifs that are repeated often. Stained glass was also used often, in furniture, architecture, and accessories alike, and the highly decorative Tiffany lamps became an icon of the American Art Nouveau style.
ART DECO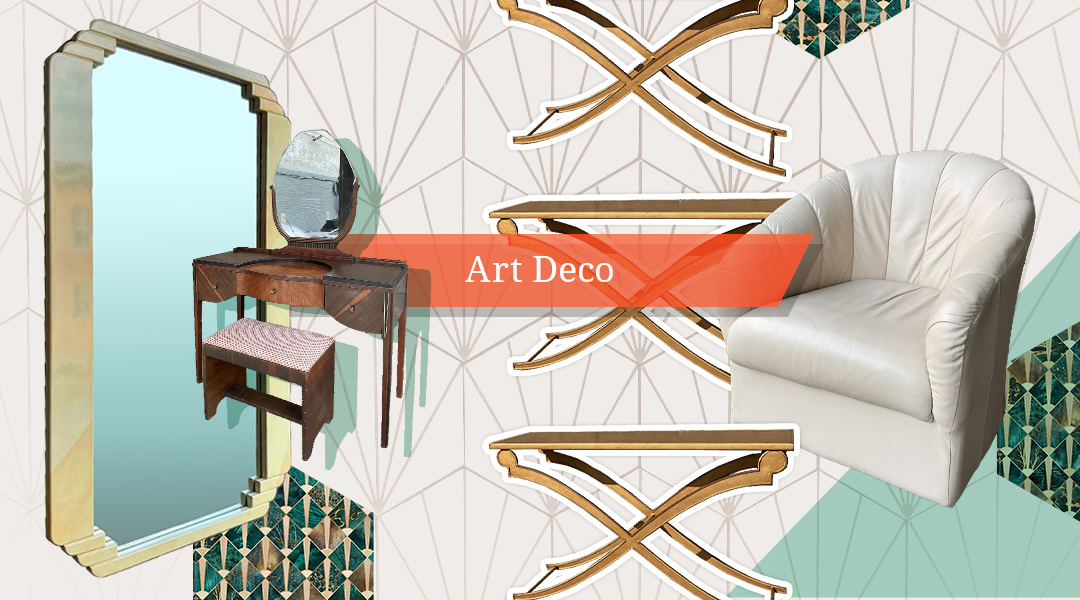 —c.1920s-1930s
—Bold geometry
—Decadent detail work
Art Deco came later and was very much inspired by Art Nouveau. Thus, the two are often confused, but there are important differences to keep in mind. Art Deco is still nature-inspired like Art Nouveau, but this decor style simplified Art Nouveau's patterns (chevrons, zigzags, trapezoids, etc.) and intensified its colors in both saturation and contrast (think deep jewel tones paired with bright metallics), for a sophisticated and luxurious feel. The stepped profile became the accent of choice for Art Deco and has remained its most identifiable feature, along with the sunburst, another defining element that could be found across mirrors, tabletop decor, artwork, clocks, and more.
MID-CENTURY MODERN (MCM)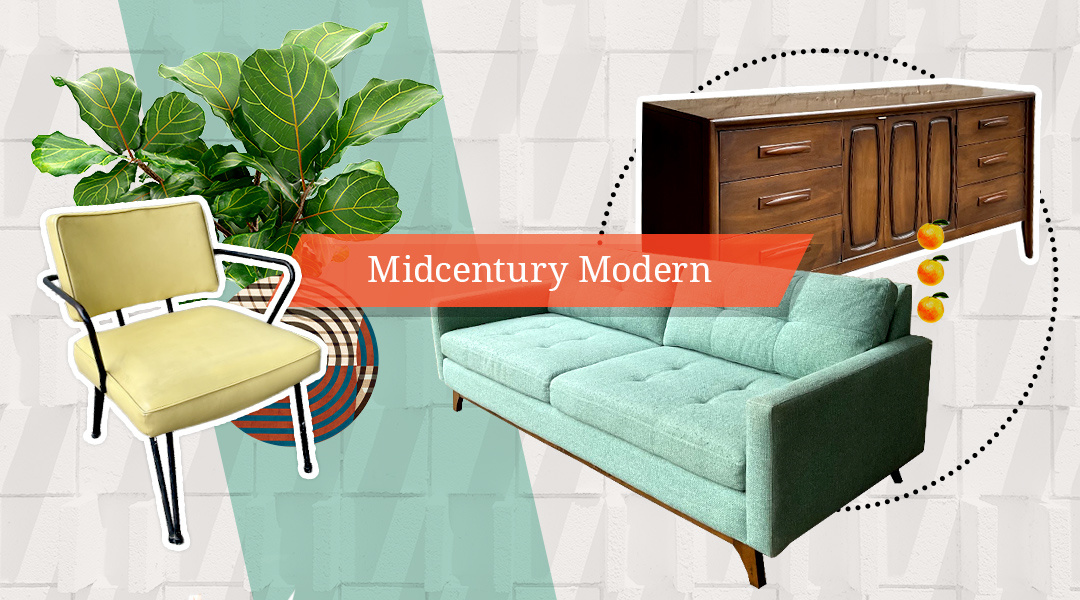 —c.1930s-1960s
—Clean lines
—Organic shapes
—Highly influenced by Danish Modernism
—Rosewood, fruitwoods, teak, walnut
—Veneers and laminates
—Retro-futuristic vibe
The Mid-century Modern (MCM) is an uncluttered, minimalistic style known for simple, clean lines free from ornate decorative elements, and organic or graphic shapes. MCM is also known for being constructed from specific materials. Rosewood, teak and walnut as well as metal, glass, vinyl, and laminate were typical materials used to craft the original mid-century modern pieces. Hairpin legs and angled peg feet, bar carts, mirrors with asymmetrical shapes, and natural hues with pops of bold color are all major components of the style.
                        
BRINGING IT HOME
Now that you have a better idea of what we look for in the key styles we curate, it's time for the fun part - finding the right pieces (be it furniture, art, or other design elements) to bring these styles to life in your favorite space, be it home, office, or venue.
At GoodWood you can expect to find endless inspiration in our ever-changing collection of vintage furniture and home furnishings. To make it easier than ever to find the styles you love, we've added a new way to navigate our online catalog — Shop by Style.
Check out our online catalog and Instagram profile regularly or come by our store to scope out our latest additions! And stay tuned for part two of our vintage style primer!