GoodWood is back with part two of our style primer!
In Part I, we highlighted facts, characteristics, and the history of some of the most recognizable and popular interior design styles. For Part II, we're diving into additional styles - some of them lesser known - to help provide you with a more robust understanding of the features, information, and character we look for when curating and cataloging pieces of furniture, art, and decor to offer in the shop.
JACOBEAN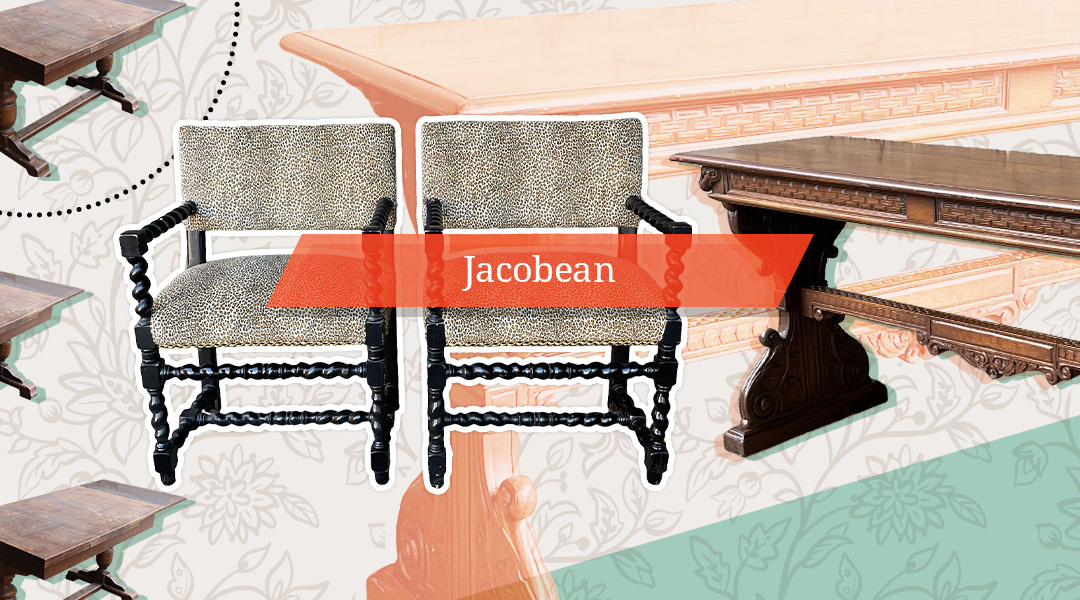 —c. 1603-1625
—Craftsmen favored hardwoods such as oak and mahogany
—Furniture was massive and built to last
—Often decorated with intricate and detailed carvings
—New- found focus on three-dimensional attractiveness of furniture
—Features square and rectangular shapes
The Jacobean style emerged through the rule of James I of England, right after the Elizabethan period. Furniture from this period is often made of solid oak, intricately carved with heavy lines and fine detail, symmetrical in its composition, and sometimes painted black to mimic lacquer.
Also, in a shift from the earlier medieval and tudor styles, furniture was designed to be attractive from more than one angle and comfortable. Modern interpretations of the Jacobean style might use different building techniques, but still feature that classic, rectangular silhouette that can add a fine, traditional touch to any home.
PRIMITIVE AND RUSTIC
—c. 1800's
—Natural, rough, and aged appearance
—Textured, organic materials and fabrics
—Prioritizes function over form
As settlers moved further out West in the 19th century, they couldn't bring much heavy furniture with them and had to make due with whatever they could find and make on site. This led to the development of the Primitive/Rustic style, which emphasizes simple, rugged and practical pieces crafted from local materials (wood, stone, and other organic elements) while letting the natural beauty of those elements shine, in stark contrast to the Victorian style of decor that was also popular at the same time.
The focus of a Primitive/Rustic-styled piece should be the material that it's made of more than the design it was given, highlighting all the imperfections and character of those elements, such as knots in the wood used, imperfect lines, or organic silhouettes. Natural wood grain and a warmer, muted color palette reign supreme here: beiges, browns, greens, blues, reds and grays.
ORIENTAL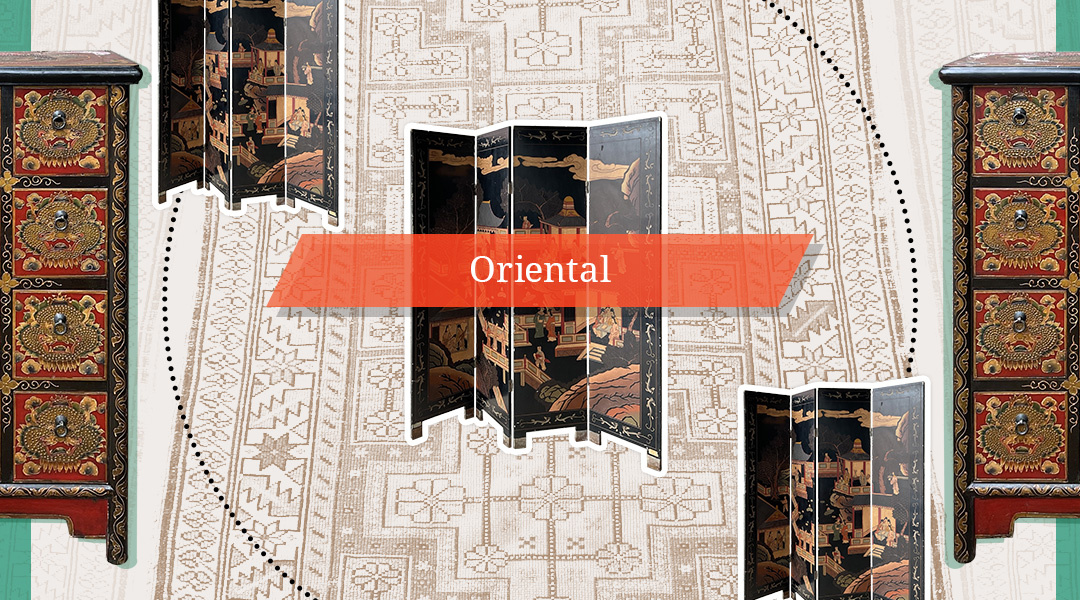 —Popular in mid-1800s Europe, its influence continues in present day
—Often borrows elements of feng shui
—Natural materials preferred (wood, bamboo, silk, porcelain)
—intricate floral and nature motifs
—Furniture mostly made without glue or nails using mortice and tenon joinery or dovetailing
Oriental style, also referred to sometimes as Asian Zen style in modern times, is a term that encompasses a myriad of influences from Eastern Asia, with the most prominent coming from China and Japan.
The Oriental style attempts to create balance, harmony, and simplicity within the home through the use of earth tones and natural colors when decorating, with preference given to natural materials. Lacquer can also feature prominently as it originated in Asia, and was often used on wood furniture to give it shine and longevity.
BEAUX ARTS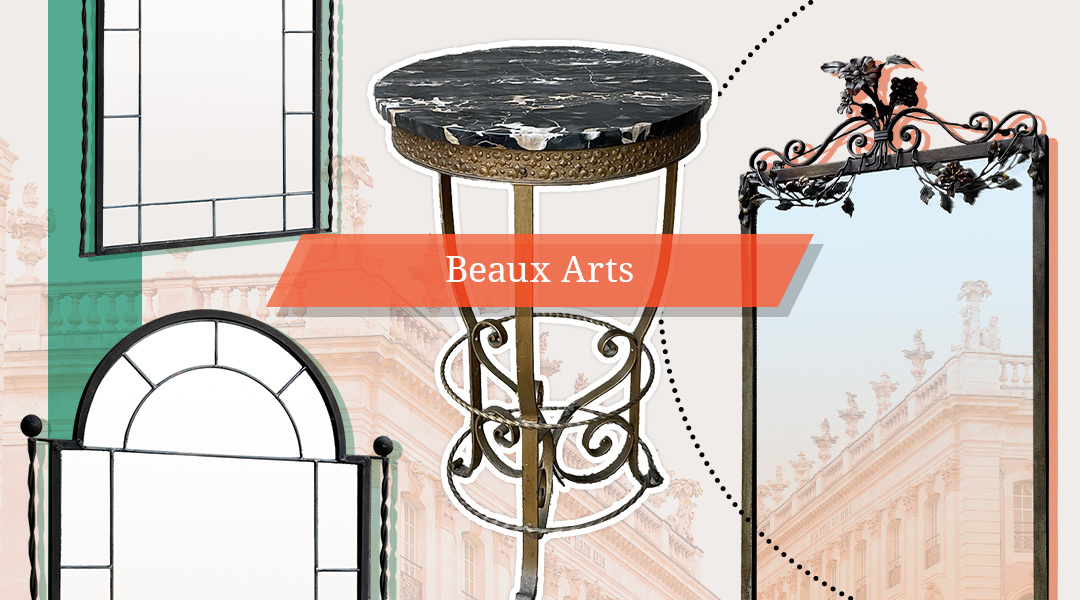 —c. 1860-1910
—Highly ornamental
—Incorporates classic Greek and Roman elements
In the late 19th century, many American architects went to train at the L'Ecole des Beaux
Arts, a French art school, and brought back with them the Beaux Arts style, so named after the school. A mixture of classical French, Italian, and Georgian English influences resulted in an opulent, ornately decorated style that valued symmetry, sophistication, and grandiosity above all else. Stone, plaster, terracotta, and hardwoods are the most common materials in the Beaux Arts style, with gilt and crystal accents also being popular.
HOLLYWOOD REGENCY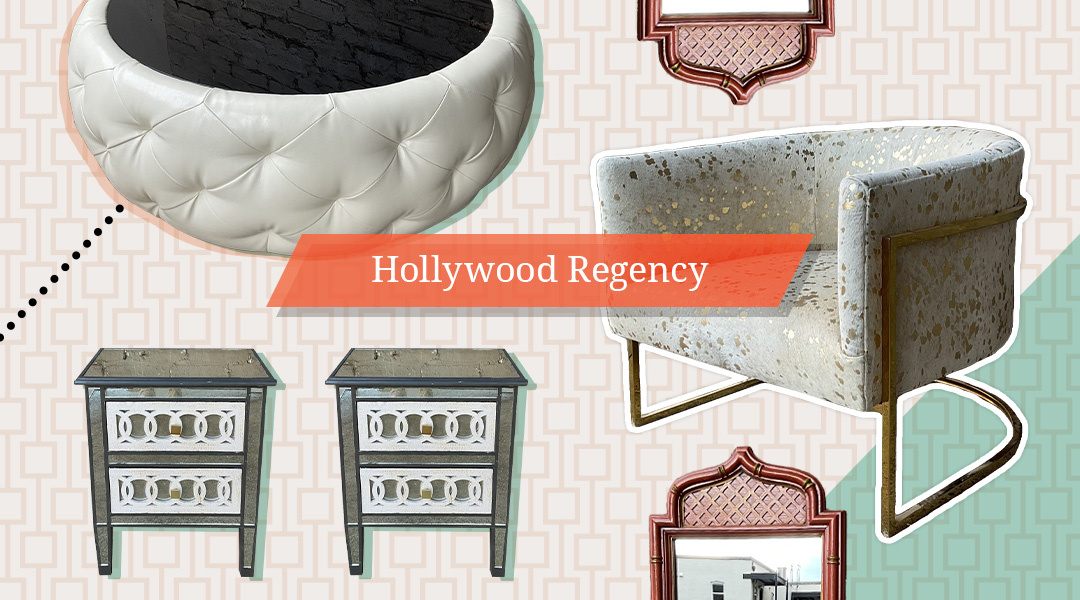 —c. mid-1920s to the early 1960s
—Bold use of bright, saturated, and contrasting colors
—Mixes well with an eclectic approach to styling
Lovers of maximalism are often fans of Hollywood Regency style. While the Hollywood Regency style first emerged with the Hollywood Golden Age in the '20s and 30's, it was also heavily influenced by Art Deco, Rococo, and the mid-century elements that came after it.
One of the biggest draws of the Hollywood Regency style is its use of colors: bold, bright jewel tones, black and white contrast, and metallic finishes. When embracing Hollywood Regency pieces, the more luxurious the material the better, with pattern and texture mixing highly encouraged. If you're looking for an eclectic style that features luxury, comfort and glam, Hollywood Regency might be for you!
GOODWOOD GLOSSARY
Language can often be imprecise and loose in meaning, especially when it comes to art and how it's described. Different people can interpret the same term in slightly different ways, so in an effort to make things as clear as possible, here is how GoodWood interprets some frequently used terms:
Antique = more than 100 years old
Vintage = typically means more than 20 years old
Modern = in GoodWood terms, "modern" means the item is not necessarily antique or vintage, but we saw enough value and potential in it to put it in the shop
                       
We hope this Style Primer Part II has been educational and entertaining. Remember, you don't have to just use one style of furniture or decor, and by learning more about the influences and history of the classic design styles, you can be more intentional about invoking a particular feeling in your own, everyday spaces.
Ready to start exploring? Check out our latest pieces, and sort using the "Shop By Style" categories to see what's currently available. Pieces move quickly, so we also recommend you check out our online catalog and Instagram profile regularly to scope out our latest additions, or come by the store to see them in person!