Decoding the value and history of antique and vintage furniture can be challenging. While a careful review of an item's defining characteristics such as materials used, shape, and decorative flourishes can help you get a general idea regarding the age of a piece, a maker's mark, if present, can help you pinpoint an item's specific history, such as when and where it was produced and by whom.
Not all antique or vintage furniture have maker's marks - in fact, the majority do not, so when a maker's mark is discovered, it not only helps in dating the piece on which it was found but can also serve as a guide for identifying anonymous furniture pieces of a similar style or manufacturing process.
What are Maker's Marks?
Maker's marks or "shop marks" can take any number of forms including handwritten signatures, stamps, labels, stencils, plaques, tags, or even brands, and were often used by artisans, craftsmen, retailers, and manufacturers to take credit for or trademark their work.
Typically, a maker's mark will be placed somewhere that is easy to locate but doesn't distract from the overall aesthetic of the piece. If it exists, you are most likely to find the mark on the backside or underside of the piece, or inside a drawer, door, or cabinet.
Not all creators chose to mark their pieces, and not all marks withstand the test of time, so discovering and identifying them can add a thrill to the hunt for your next antique acquisition. There are a number of catalogs, books, and websites that can help furniture enthusiasts identify a mark.
Why Are Maker's Marks Important?
The obvious answer, and the most straightforward, is that a maker's mark helps you identify the brand or creator of the piece of furniture, which may assist you in finding out more about the item in question, such as its place of manufacture, the name of the furniture model, the type of wood/finish used, or even possibly the name of the specific craftsman who made it. For antique enthusiasts and general lovers of history, the knowledge gained from finding and researching the mark may be the goal and reward in and of itself.
Maker's mark can also help you date the piece of furniture. Because many marks evolved and changed over time, identifying those subtle differences can help you determine when a particular piece was made, even if little else changed in the furniture itself during that same period. For example, Basic-Witz Furniture Industries sold furniture in Virginia, before the company was purchased by Stanley Furniture in the 1970s. If you find a piece with a Basic-Witz Furniture Industries stamp, you can then determine it was made prior to the 1970s.
The value of vintage furniture and decor is dependent on a number of factors, but the age and maker of the piece are important considerations, in addition to other aspects such as the condition of the item, how much of a full set is present (full sets are always worth more) and the popularity of a brand or creator in your area (e.g. RWay is popular/well-known on the east coast, and thus may be priced differently in Virginia versus Oregon). 
Distinguishing replicas from originals is another task that maker's marks can assist with. Unscrupulous vendors will sometimes attempt to replicate these marks to add legitimacy to the pieces they are trying to pull off as originals, so when reviewing marks, it's important to conduct a close examination to ensure it's not missing any key components, iconography, or errant dates. If there is any doubt, however, it may be best to leave the identification job to antique experts, like the team at GoodWood.
Examples of Maker's Marks
Here are a few examples of maker's marks that have recently passed through GoodWood's doors:
Basic-Witz Furniture Industries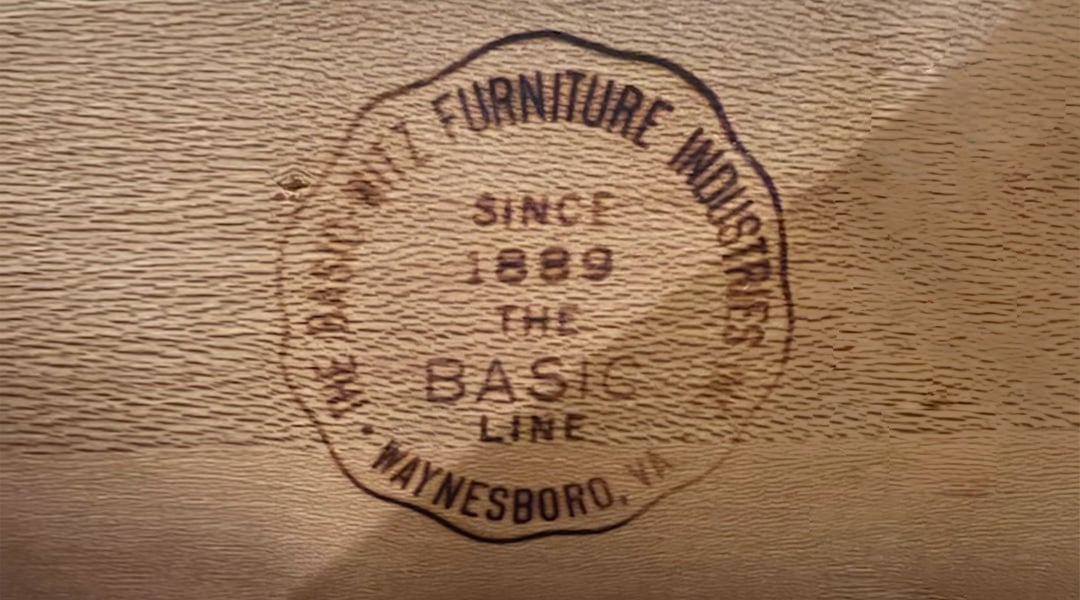 Basic-Witz Furniture Industries was founded in 1889 with plants in Waynesboro and Staunton, Virginia. They were known for manufacturing a popular line of modern and 18th Century bedroom and dining room furniture, as well as desks and secretaries. Records indicate that they were purchased in the 1970s by Stanley Furniture.1
R-Way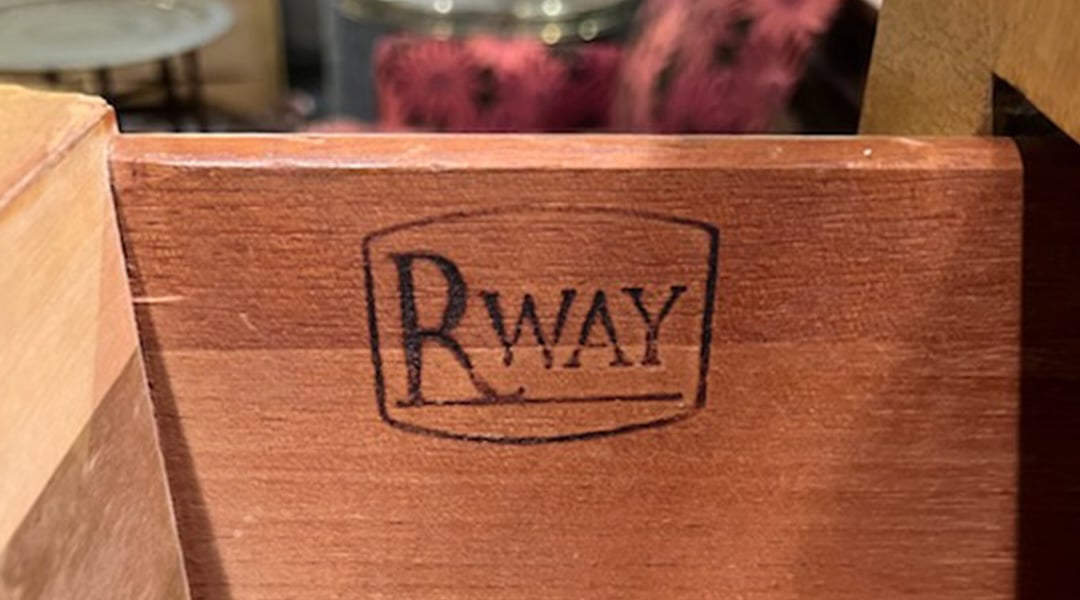 R-Way Furniture Company was initially founded in 1881 in Sheboygan, Wisconsin by George Mattoon under the name Mattoon Manufacturing Co. After his death, it became known as Northern Furniture and was ultimately rebranded R-Way Furniture in 1942 after it was purchased by the C. Reiss Coal Company.
R-Way is known for the stunning craftsmanship of mid-century modern furniture, and its commitment to quality is apparent in its use of dovetail joints, solid wood construction, and contoured brass drawer pulls.
Mengel Furniture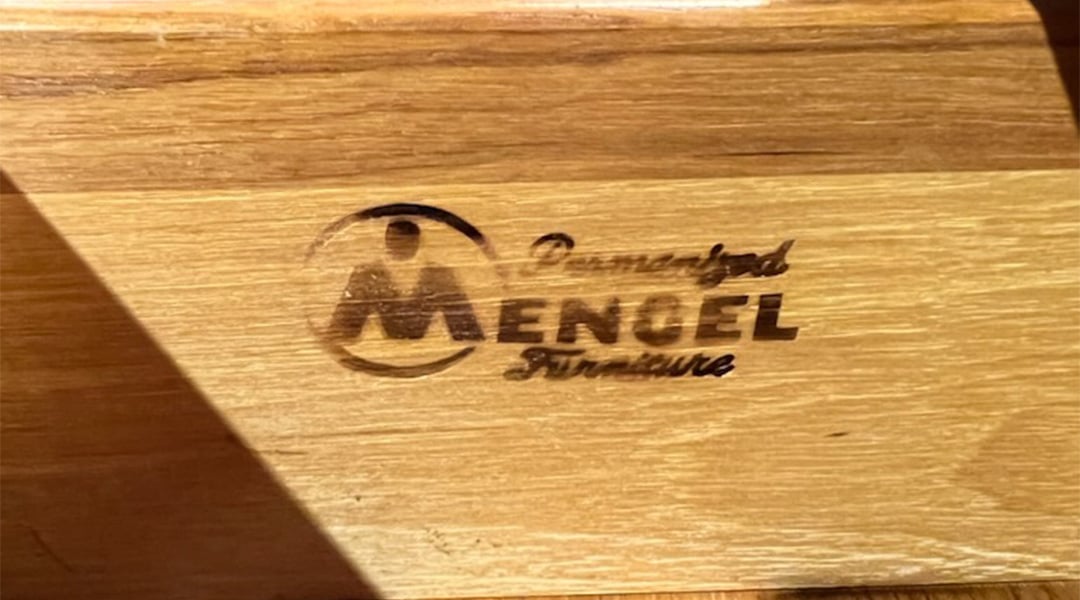 Mengel Furniture was founded in 1877 by C.C. Mengel in Louisville, Kentucky. They manufactured household furnishings, wooden washing machines, and wooden boxes using lumber from the mills they also operated in Central and South America. Over time they expanded into children's toys and wooden car components, but following WWII Mengel Furniture reorganized to concentrate on bedroom, dining, and living room furniture sets.
Harmony House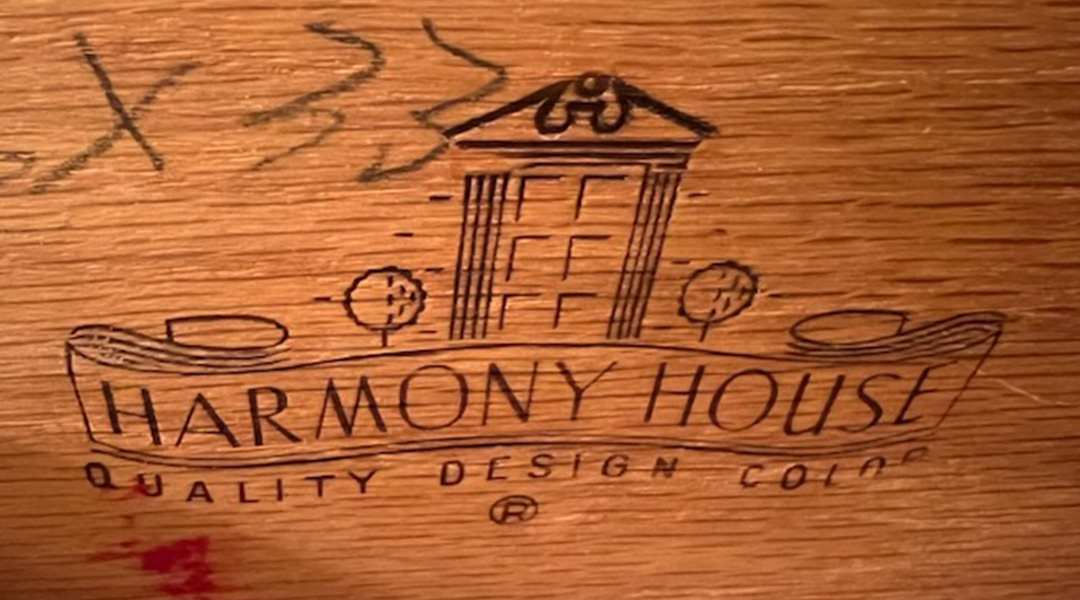 Harmony House was a brand created by Sears in response to customer demand for a collection of furniture and furnishings that was easier to color coordinate to provide a more cohesive look for the home. The line launched with four colors in light, medium,, and dark shades, eventually expanding to feature 18 colors. The Harmony House brand ran from 1940 to 1968.
Lane Furniture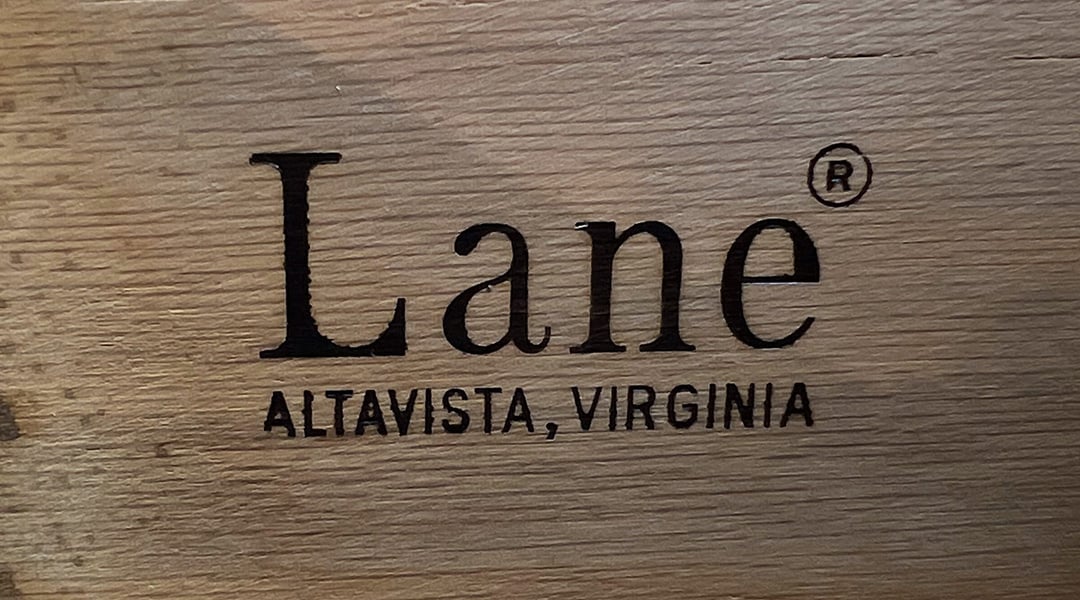 The father-son team of John Lane and Ed Lane purchased a small Virginian box plant in 1912, incorporating their new venture as the Standard Red Cedar Chest Company. The company slowly expanded the types of furniture they offered, and eventually changed their name to Lane Furniture.
GoodWood: Trusted Vintage and Antique Experts
Of course, maker's marks aren't the be-all and end-all of antique categorization; if a piece lacks a maker's mark, that does not mean it's not authentic - shop marks just serve as an excellent starting point in verification when present. Our furniture and décor experts can ascertain much about a piece simply by examination and occasional further research.
At GoodWood, you can shop with confidence knowing that we only source and sell furniture that is carefully assessed and authenticated by our experienced pickers. GoodWood selects the best items directly from auction, which eliminates markups and helps keep our prices reasonable. When a maker mark is identified, we include that information in the product title to help aid those on the hunt for pieces made by a particular manufacturer or craftsman.
Have a question about maker's marks, furniture identification, or another aspect of vintage and antique furniture? Feel free to come by the store and chat with us!
1Furniture World Magazine 1940. 70th anniversary issue. "The Furniture Industry of the Southeast"